Electronics Manufacturer Inks Commitment at Rutgers Industrial Center
Electronics manufacturer RCF USA has signed a 30,000-square-foot, full-building industrial lease at 101 Circle Drive North, announced Levin Management Corporation (LMC). Part of Rutgers Industrial Center in Piscataway, the new warehouse building was leased prior to completion, underscoring sustained demand for quality industrial/warehouse space in Northern and Central New Jersey.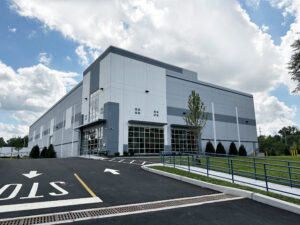 LMC serves as asset manager for Rutgers Industrial Center, a six-building, 570,000-square-foot industrial/warehouse complex in the heart of New Jersey's I-287 industrial corridor. The full-service commercial real estate services firm served as construction manager for the 101 Circle Drive North development, which broke ground in mid-2022 and is nearing completion.
RCF USA – a manufacturer of professional audio equipment – is relocating to 101 Circle Drive North from Edison in an expansion move, with an anticipated move in this summer. Chuck Fern of Cushman & Wakefield served as landlord broker in negotiating the long-term transaction; the firm's Jason Barton represented the tenant.
"Not only is our existing Edison space too small and outdated, but we are sharing the building with other tenants," said Justin Brock, RCF USA's vice president of strategic sales and operations. "The move to 101 Circle Drive North gives us our own building with plenty of room to expand and grow over time, along with superior highway access. We have been looking for new warehouse space for a long time and couldn't find the right fit; 101 Circle Drive North checked every box." The company, whose products are manufactured in Italy, maintains a second warehouse location in Piscataway.
Along with offering superior highway access, 101 Circle Drive North features 35-foot minimum clear ceiling heights, six dock doors, 38 parking stalls and an ESFR sprinkler system.
"We are pleased to see how positively the market responded to this project," said LMC's Paul Tavaglione, executive vice president/chief operating officer. "101 Circle Drive North presented RCF USA with a truly unique opportunity to relocate to brand-new, move-in ready warehouse space in what has become one of the Garden State's most sought-after markets for small and mid-size distribution requirements."
Rutgers Industrial Center sits in the heart of Middlesex County, easily accessible to I-287 and just five miles from Exit 10 of the New Jersey Turnpike. Commuter rail service, Newark Liberty International Airport, New York City and New Jersey seaports are all nearby.
LMC, long recognized for its leadership in the retail sector, maintains a 16.5 million-square-foot leasing and management portfolio including approximately 570,000 square feet of industrial and 780,000 square feet of office assets – sectors for which it is seeing increased demand. For seven decades, the firm has served as a trusted single-source commercial real estate services provider for institutional and private owners. The company helps its clients operate properties and create case-specific solutions to protect and improve value; it has distinguished itself as a firm large enough to excel in assignments of any scale while continuing to employ a hands-on, proprietary approach in every facet of its business.